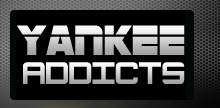 October 10, 2010 · Scott Gyurina · Jump to comments
Article Source: Bleacher Report - New York Yankees
Every year we hear the same whispers:
"How much longer can Mo last?"
Because it's such an infrequent occurrence, anytime he blows a save, the doubters surface with their proclamations of Mariano's imminent demise.
At a point in his life where most of his peers are playing golf, or delving into post-playing-career business ventures, the inimitable Mariano Rivera is continuing to add luster to his likely first-ballot Hall of Fame credentials.
It's difficult to not lapse into fits of hyperbole when discussing the exploits of the humble man from Panama simply known as Mo. To speak of him is reminiscent of the accolades bestowed upon "the most interesting man in the world."
He executes his craft with surgical precision, yet with such simplicity, and with a grace befitting a nobleman. It occasionally appears as if what he does is easy. To be clear, it is anything but.
His failings are so rare, especially upon the grand stage of baseball's postseason, that we can remember them perfectly, likely even more so than his abundant successes. They stand out so dramatically from the bulk of his performances that they have seared themselves into our collective memory. Mariano Rivera's dominance feels so commonplace that we barely bat an eye as he repeatedly shatters both bats and dreams.
With yet another entry into his vast collection of MLB playoff appearances, we are reminded what a blessing it has been to watch this man ply his trade over the last 16 baseball seasons. Even the most devout Yankee-hater finds difficulty disparaging the highly-respected Mariano Rivera or his accomplishments.
After laboring through a September in which he more than doubled his total of blown saves through the first five months of the season, the doubts began to resurface whether the Yankees could count on the stalwart at the back end of their bullpen to perform in October.
His performances during September, while not terrible, certainly didn't approach the dominance he had displayed from April through August. In that stretch, he pitched in 49 games, logging 47.2 innings, and was 27 of 29 in save opportunities, while striking out 38 and only allowing 27 hits and 9 walks. His sparkling 1.13 ERA, .163 batting average against, and opponents' OPS of .442 were among the very best marks of his career.
When his September ERA jumped to 4.76, with a .273 batting average against and .713 OPS, while blowing three of his eight save opportunities, theories that age had suddenly caught up to Mariano seemed to proliferate.
His opposition could only hope.
Mariano Rivera served to thrust the proverbial dagger into the hearts of his Minnesota rivals, mercilessly ending each game with his own brand of shutdown pitching. Overall in the ALDS, he pitched 3.1 innings, allowing no runs and only two base-runners on two singles—one of which was actually an out, when umpires missed Greg Golson's shoestring catch on Delmon Young's sinking liner.
Although he only struck out one hitter, his dominance was such that Young was the only hitter to even make solid contact against him. The rest were the usual flares and harmless grounders that hitters routinely muster against the greatest closer that baseball has ever seen.
In the bottom of the eighth inning of Game 1 at Target Field, Mo entered with men on second and third and two outs, as the Yankees clung to a two-run lead. But after he retired Denard Span on a weak ground-out to Derek Jeter, the bottom of the ninth inning seemed like merely a formality.
He had extinguished the Twins' dreams of a comeback in the eighth, and by the time they faced him in the ninth, the game felt like it was already over. Such is the futility most teams feel when tasked with mounting a comeback against him, especially in the playoffs.
Game 2 was more of the same, as Mariano entered the ninth, this time with a three-run lead. After Joe Mauer led off with an opposite field single, the Twins may have briefly entertained notions of a comeback, but those were quickly quashed as Mo induced a tailor-made double-play grounder to the next hitter.
He then retired Jim Thome on a soft fly-out to shallow left, strangely reminiscent of the soft fly that Thome ended the previous night's game with.
As Game 3 entered the ninth inning, the Yankees possessed a seemingly insurmountable 6-1 lead at home this time at Yankee Stadium. Usually, Joe Girardi would prefer not to use Mo in such a situation, however after Kerry Wood tried to make a mess of the eighth inning, offering the Twins a minuscule glimmer of hope, the Yankees were unwilling to leave anything to chance.
With the chance to sweep, knowing that the Yankees would have several days to let their pitchers recover, Girardi wasn't worried about burning out his veteran closer. Rivera entered in the top of the ninth, and quickly dismissed slugger Jim Thome on a strikeout looking, precisely locating cutters to retire the powerful designated hitter for the third time in three games.
The next two batters each flew out harmlessly to end the game, as well as baseball season in Minnesota, until it begins anew next spring.
Aside from the slightly tense eighth inning during Game 1, there was very little drama at the conclusion of any of the games. That was due partly to the Yankee leads of two, three, and five runs respectively, but additionally, the notion of Mariano Rivera looming in the bullpen serves as a psychological weapon that serves to weaken the resolve of even the best teams.
It essentially shortens the games, forcing teams to press more in the innings immediately preceding Mo's ninth inning domain. If not leading a game by then, your only option is to come back from a deficit against a pitcher who, in his postseason career, is 41-of-47 save opportunities with a 0.72 ERA and only 84 hits allowed in 136.2 innings.
In other words, the odds are slim.
Interestingly, the conclusion of the 2010 World Series will see Mariano Rivera become a free agent, along with his teammate of 16 seasons with the New York Yankees, shortstop Derek Jeter. Of course, no one thinks realistically that either of them will play anywhere but the Bronx in 2011 and beyond, but it remains to be seen how long Mariano Rivera desires to pitch.
On November 29 the ageless Mariano will celebrate his 41st birthday. In this "post-steroid era" we now find ourselves in, we have seen players once again declining and retiring in their late-30's, unlike their pharmaceutical-enhanced brethren from just a few years ago who were able to bypass the natural rigors of time trough chemistry.
Mo though, continues to defy the odds, and is clearly still near the top of his game at his relatively advanced age.
Clearly, Mariano has nothing left to prove, as he is widely revered as the greatest closer the game has ever seen, even if he doesn't yet own the all-time saves record. I don't know how much being the all-time saves leader would mean to Mo, but one has to think that a competitor of his caliber would at least be intrigued by the possibility of being alone atop the list of greatest closers in baseball history.
As it sits currently, Mariano Rivera is second to only Trevor Hoffman on the all-time saves leader board, and only 42 behind Hoffman. With Hoffman still pitching, it may be difficult to catch him, but with Trevor's significant struggles in Milwaukee this season, his similarly impressive career may be coming to a close.
With a gap of 42 saves separating them, Mo could conceivably catch and pass Hoffman within two years. It's certainly not unrealistic to envision the impeccably conditioned Mo pitching another two seasons in pinstripes.
Once the day comes when the Yankee manager no longer has Mariano Rivera to call upon out in the bullpen, the Yankees will certainly feel the effects of his absence as they try to fill the void left by the departure of one of the consistently reliable pitchers baseball has ever known. Finding a suitable replacement will be difficult, if not downright impossible to achieve. Even the best candidate will likely pale in comparison to the peerless Sandman.
For the moment though, the Yankees don't have to be concerned with such unpleasant thoughts. They only have to focus on preparing for their second consecutive American League Championship Series, resting assured that Mo is still here, and in just the position he prefers himself to be in—pitching under the bright lights of October playoff baseball. Enter Sandman indeed.
Read more New York Yankees news on BleacherReport.com