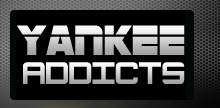 April 3, 2010 · Andrew Brining · Jump to comments
Article Source: Bleacher Report - New York Yankees
Give FOX Sports' Ken Rosenthal credit—before reaching for the Chicago White Sox as his prediction to win the 2010 World Series, he prefaced it with (probably real) editor guidelines.
The first two essentially prohibited him from tabbing either the New York Yankees or Boston Red Sox.
Fine, the powers-that-be wanted him to zig when everyone else zagged. Makes for more interesting headlines, spicier debate, blah, blah, blah.
That's all well and good except it's artificial, which doesn't sit well with me.
Rosenthal has to know what most baseball brains have recognized—the New York Yankees, Boston Red Sox, and (to a lesser degree) the Tampa Bay Rays are built differently that anyone else in Major League Baseball with the possible exception of the Philadelphia Phillies.
Anyone who looks at that three-headed monster and realistically sees an external club emerging from the Fall Classic is either delusional or banking on the injury bug to level the playing field.
Otherwise, mortal nines can't match the depth, talent, and especially experience the Bombers and Sawks can run out there.
The larger problem is the disparity isn't particularly close, which means the likelihood of upset basically depends on catastrophe befalling the favorite.
That is the blessing of the seven-game series—the best team usually triumphs.
Consequently, only health can stop these guys.
Which is reason to hope, but not much.