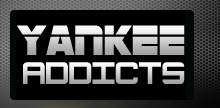 March 31, 2010 · David Peterson · Jump to comments
Article Source: Bleacher Report - New York Yankees
This is my sixth and final division preview before the 2010 season kicks off in the first week of April. The AL East is home to some strong teams that hold high aspirations for 2010, including a World Championship. Here is the breakdown (in alphabetical order):
Baltimore Orioles
The Orioles are on the fence right now as a team combining experience with solid young talent. These guys have not had a winning record since 1997, but they are certainly headed in the right direction.
I like Nick Markakis and Adam Jones to be a nice one-two punch in the 2 and 3 spots in the lineup. Also look for catcher Matt Wieters to take a big step forward this year. Miguel Tejada returns and will transition over to third base, and he offers some power in the 5 spot. The starting rotation is very young and consists of bright, up and coming stars in Brian Matusz and Chris Tillman.
Fantasy Spotlight—Nick Markakis
This guy has put together back to back solid years and is primed to have a break-out season in 2010. Look for a stat line of .300 28 HR 105 RBI 95 Runs.
Boston Red Sox
The boys in Boston spent a lot of money again in the offseason in an attempt to keep pace with the rival Yankees.
John Lackey comes in and joins a potent starting rotation that includes Josh Beckett. David Ortiz needs to bounce back from a very poor 2009 performance, and losing Jason Bay puts more pressure on Big Papi. Kevin Youkilis and Dustin Pedroia are staples in the infield, and Ellsbury will be looked at to steal 50 bases and play outstanding D in left field. Will Dice-K get back to his 2008 form?
Fantasy Spotlight—Jon Lester
Lester is a strong left-hander who made tremendous strides in 2009 and is in line for an outstanding 2010 campaign. I project a stat line of 17 Wins 3.05 ERA 1.22 WHIP and 180 Strikeouts.
New York Yankees
The Bronx Bombers are back in 2010 with one of the best lineups in the game, cornerstoned by 3B Alex Rodriguez and 1B Mark Teixeira. These guys will score plenty of runs, especially in that tiny ballpark.
The addition of Curtis Granderson is an upgrade from the departed Johnny Damon. Phil Hughes was named the team's fifth starter, which means Joba Chamberlain will be used out of the bullpen (where I believe he belongs). Andy Pettitte is back on board and is part of a very strong rotation top to bottom. As always, Mariano Rivera will be given the ball in the ninth.
Fantasy Spotlight—C.C. Sabathia
The big lefty had a fine year in 2009, his first with the Yankees. The innings are adding up on his arm, but he is still in his prime. I see his 2010 season coming out to 20 Wins 3.20 ERA 1.15 WHIP and 225 Strikeouts.
Tampa Bay Rays
The Rays are going to be a fun team to watch in 2010. If you have to choose one team besides your home time to follow and to root for, make it the Rays.
This is most likely the final year that Crawford and/or Pena will have with the team, as their impending free agency looms at the end of the year. Top prospect Desmond Jennings should get called up by early June and will provide some spark in the outfield and in the lineup. If B.J. Upton can stay healthy and drive the ball, then this offense had a good chance at matching the Red Sox and Yankees. I love Crawford's speed, Longoria's bat, the heart of the pitching staff, and the leadership of the manager.
Fantasy Spotlight—Carl Crawford
This is a free agency show-the-world-what-I-can-do season for Crawford. I expect a stat line of .315 20 HR 85 RBI 110 Runs and 60 steals.
Toronto Blue Jays
One of the most underrated players in the game last year was Adam Lind, who stepped up as one of the rare offensive forces for the team north of the border. The Blue Jays need to find their identity, and quick. Are they in a rebuilding mode? Do they sell at midseason and load up on prospects? Do they have what it takes to compete in this division?
Vernon Wells, their top money-maker, needs to step up and prove his worth to the franchise. 2009 top rookie Travis Snider has a chance to come into his own this year and be a force in the 5 spot in the lineup. The starting rotation is full of decent young arms that need to turn into great young arms after the departure of long time ace Roy Halladay. Jason Frasor looks to be the top choice to start the season as the team's closer.
Fantasy Spotlight—Adam Lind
This guy is a great fantasy option as your second outfielder taken. Look for him to build on an impressive '09 season and put together a stat line of .310 35 HR 120 RBI and 100 Runs.
Prediction
The AL East will come down to starting pitching stamina. All of these teams can hit, but not everyone in the rotation is going to stay strong and healthy down the stretch. In a division that looks like a three-team race between the Rays, Red Sox, and Yankees, I see the Yankees coming out on top.
The addition of Javier Vasquez gives the Yankees a top-notch rotation of guys that can stay healthy and have been clutch down the stretch. This Yankees team is very strong from top to bottom. The defending World Champions will be in full force again in 2010.
Read more New York Yankees news on BleacherReport.com