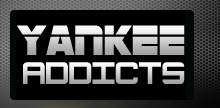 May 1, 2009 · Rob Abruzzese · Jump to comments
Article Source: Bleacher Report - New York Yankees
Happy first day of May everyone! This means it is time to delegate my monthly Yankees Awards! Every month of the season, I will honor the best hitter, best pitcher and most clutch player on the Yankees.
Best Hitter: Nick Swisher
Swisher was not in the starting lineup on opening day, and was expected to relieve Xavier Nady in right field on occasion throughout the season. Instead, Nady hit the DL and Swisher started regularly in right. He surprised everyone with his offensive tear to start the season, and carried the Yankees on his back.
His .714 slugging percentage tied him for first in the American League, and he led the Yankees in runs (21), doubles (8), home runs (7), RBI (19), total bases (55), and OBP (.430). Unfortunately, he also led the team with 19 strikeouts, but I am okay with that if he keeps producing remotely near the level he is at right now.
Honorable Mention: Robinson Cano
Before this season, Cano was a career .237 hitter in March and April. This April, he batted .366—good for sixth in the American League. Cano's preseason work has paid off, and everyone is impressed with his maturation this season.
Best Pitcher: Andy Pettitte
The 36-year-old Pettitte was another unexpected leader for the Yankees in April. He accepted a significant pay cut in the off-season and now looks like he is trying to earn himself one last big contract for the end of his career.
Pettitte owned the lowest ERA on the team for a starter at 2.96, and tied for the team-lead in wins with two. He produced quality starts in each of his four starts and only allowed one home run thus far.
Honorable Mention: Joba Chamberlain
Despite the fan discussion of him turning back to a set-up man, Chamberlain thrived as a starter in April. In three of his four starts, he only gave up one earned run. But he only had one win to show for it because the bullpen blew two leads for him. His only bad outing came against Cleveland when he had zero control of his pitches and walked five batters.
Most Clutch: Melky Cabrera
Cabrera was another unexpected performer for the Yanks this April. He split playing time with Brett Gardner in the beginning, but ever since his big day on April 22, he's been on a roll. He hit two home runs in that game against Oakland—his second was the first walk-off hit at the new Yankee Stadium. He hit another game-winner last night against the Angels. In April, he batted .364 in late and close situations.
Honorable Mention: Johnny Damon
Damon batted .295 in April, and was a steady bat in the No. 2 spot. All 10 of his RBI came when the game was within two runs.
This article is also featured on lenNY's Yankees.