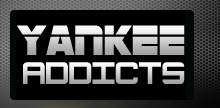 June 14, 2009 · Curtis Clontz · Jump to comments
Article Source: Bleacher Report - New York Yankees
Every now and again you hear a story that is so remarkable, it just blows you away. This is one of those stories. It is every father's dream, but every mother's nightmare. Having a son that is so gifted, that he has considered dropping out of high school to pursue his passion.
A month ago, a high school junior was skipping his senior year to play pro basketball in Europe. This time around the sport is baseball, and the kid is merely sixteen years old.
Bryce Harper is only sixteen but has already been labeled the "next big thing" for baseball. The athlete plays catcher and is a towering 6'3″. Did I mention that he is only sixteen?
For an athlete to even consider this move, he would have to be putting up astronomical numbers, and he is. Last season, for Las Vegas High School, he hit 14 homers, had 55 RBI, had more than 30 steals, and batted an impressive .626. The kid can flat out play!
If the move to skip the rest of his high school doesn't surprise you, his comparisons might. Bryce is already being compared to athletes such as LeBron James, who was the last young athlete to take the world by storm.
Skipping these two years of school may hurt him in the long run, but it may also help him. This is time he will dedicate to his trade. When draft day comes he will be rewarded, handsomely.
Skipping college has always been a trend for basketball players, but high school is another thing all together. Only time will tell if this is a fad, or the next sports wonder.