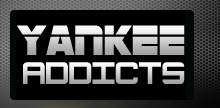 February 15, 2013 · Phil Watson · Jump to comments
Article Source: Bleacher Report - New York Yankees
If you're one of the many players in a major league spring training camp, whether a young player on the 40-man roster or a veteran or kid who scored an invitation to the big club's camp, the battle to earn one of those coveted opening-day roster spots can be harder with some teams than it is with others.
Case in point is the New York Yankees. A veteran club with many spots already locked up, barring injury or some sort of catastrophic drop-off in performance, making the Yankees is a tough proposition.
According to mlbdepthcharts.com, the projected 25-man roster for the Yankees includes:
Pitchers (12): David Aardsma, Joba Chamberlain, Phil Hughes, Hiroki Kuroda, Boone Logan, Ivan Nova, Andy Pettitte, David Phelps, Clay Rapada, Mariano Rivera, David Robertson, CC Sabathia.
Catchers (2): Francisco Cervelli, Chris Stewart.
Infielders (6): Robinson Cano, Travis Hafner, Derek Jeter, Eduardo Nunez, Mark Teixeira, Kevin Youkilis.
Outfielders (5): Matt Diaz (non-roster invitee), Brett Gardner, Curtis Granderson, Juan Rivera (non-roster invitee), Ichiro Suzuki.
Three players currently on the 40-man roster will likely start the season on the disabled list. Third baseman Alex Rodriguez is out until at least June after hip surgery and was placed on the 60-day disabled list on Wednesday. Pitcher Michael Pineda is coming back from shoulder surgery last May and won't return until June at the earliest and pitcher Manny Banuelos underwent Tommy John surgery in October and is out for the season.
With that, there are still 15 players either on the 40-man roster or invited to camp who have at least an outside shot of earning a roster spot with an outstanding showing this spring in Tampa, Fla. Here are those players, in alphabetical order.