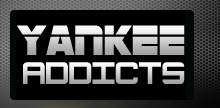 February 26, 2013 · Colin Kennedy · Jump to comments
Article Source: Bleacher Report - New York Yankees
Coming off a disappointing finish to the 2012 season, there certainly isn't a lack of discussion points for the New York Yankees at spring training.
From Curtis Granderson's broken arm to the undetermined catching position, there are a heap of questions that remain unanswered for Joe Girardi's club just weeks before the 2013 season begins.
A change in the offensive approach may be necessary for the Yankees, who lost a great deal of power to free agency and the disabled list.
Perhaps a fresh face could be found behind the plate on Opening Day.
Maybe Michael Pineda can provide New York with an internal addition halfway through the season and spark a playoff push in the merciless American League East.
But for now, we have no choice but to wait, as the MLB season is a marathon and not a sprint.
With 162 games to complete, the best teams nearly always rise to the top. Will the 2013 Yankees be able to overcome adversity and add to their unparalleled resume?
Or will Father Time catch up with Derek Jeter and friends, shifting them towards the bottom-feeders of the American League?
Here are a handful of current talking points that may ultimately decide New York's fate in 2013.