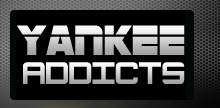 April 4, 2013 · Colin Kennedy · Jump to comments
Article Source: Bleacher Report - New York Yankees
Just days into the regular season, there is no better time to predict the future of every current player on the New York Yankees active roster.
Speculation is tough at this point. However, past tendencies and unexpected circumstances have made it easier to suggest what could result from an atypical baseball season in the Bronx.
For the Yankees, the offseason has been brutal. Several key losses to free agency were only magnified with a heap of unexpected injuries.
Now, the team has been forced to adjust.
A different playing style can be expected from manager Joe Girardi, and role players like Eduardo Nunez and Francisco Cervelli might be asked to shoulder more than they ever have.
Anyway you look at it, we can't truly know what to expect in the unpredictable sport of baseball.
But I have done my best, and here is one prediction for every member of the Yankees 25-man roster.