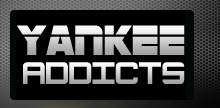 November 19, 2012 · Jake Singer · Jump to comments
Article Source: Bleacher Report - New York Yankees
The New York Yankees had the best record in the American League in 2012 but came up short of their annual goal: winning the World Series.
So, they have to get better. Additions to the roster via free agency and trade can improve the team, but each player can also be a part of improving the team by improving their play on the field.
Here is one way that each of the Yankees who are under contract for next year can improve, and improve the team by doing so.
Mark Teixeira
Going around the diamond, it starts with Mark Teixeira. Injuries hampered him in 2012, but he ended up with 24 home runs in 123 games, which put him on pace for over 30.
That's fine, but his batting average has dropped to Jason Giambi-esque numbers in a way the Yankees do not want.
Teixeira came to the Yankees with a .290 career average and beat that in 2009 when he hit .292 (and led the league with 39 home runs and 122 RBI). But since then, he's hit .256, .248 and .251 in 2010, 2011 and 2012, respectively.
If Tex can get his average back at least to the .270s, perhaps by starting to hit the opposite way when hitting left-handed to force the defense to stop shifting against him, the Yankees will be a better team.
Robinson Cano
Hitting with runners in scoring position. Cano has struggled with that since he came to the big leagues. A .308 career hitter, Robinson is just a .274 career hitter with runners in scoring position and 2012 was no different. He hit .313 but just .268 with runners in scoring position.
No matter where Robinson hits in the lineup in 2013, he's likely to come up with men on base often. The Yankees need him to drive them in.
Derek Jeter
Offensively, the Yankee captain had exactly the year the team wanted him to have. He hit .316 and even added some power, hitting 15 home runs. His speed has declined over the years, limiting him to nine stolen bases, but that happens with 38-year-olds.
Once Jeter comes back from the ankle fracture that took him out of the playoffs in 2012, the Yankees would like him to get better defensively. He's always been as reliable as they come when the ball is hit to him, but his range has gotten worse and can be a liability at shortstop.
He won't have the luxury of an offseason to work on that due to his injury, but once he returns, the Yankees would like him to work on his side-to-side mobility.
It's hard to choose just one thing A-Rod needs to work on, but it starts with hitting right-handed pitching. Perhaps some of his issues in the postseason were due to the broken hand he suffered earlier in the season, but Rodriguez was simply overmatched in the playoffs. He couldn't even catch up to Darren O'Day's 85 mile-per-hour fastballs.
A-Rod will probably not hit 50 or even 40 home runs again in a season due to his age and past hip injuries, but he needs to do a better job making contact against right-handed pitching.
Brett Gardner
Gardner only played in 16 games this year due to a wrist injury, so it's hard to pinpoint one thing he needs to improve on, other than staying healthy. Having Brett in the lineup makes the Yankees much more adept at manufacturing runs instead of waiting for the home run, which was one of their biggest weaknesses in 2012. They need him on the field in 2013.
Curtis Granderson
Contact, contact, contact. Granderson hit 43 home runs this year, which is great, but he struck out 195 times, which is not. By the end of the season, it felt like he either hit a home run or struck out in every at-bat.
For whatever reason, Curtis had trouble making contact in 2012. If he strikes out at the same rate in 2013 and keeps his on-base percentage around the .319 rate he had in 2012, the Yankees will not offer him a contract when he hits free agency after the season.
C.C. Sabathia
There's not much for Sabathia to improve on going forward; the Yankees just need him to stay as effective as he's been in his first four years in pinstripes. But he did have health issues in 2012, missing time due to a groin injury and elbow soreness.
He had a minor elbow procedure this offseason, so the Yankees just need C.C. to improve his health and be on the mound around 35 times in 2013.
Andy Pettitte
Assuming Pettitte comes back next year, there's not much for him to improve on either. He was great this year, especially considering he had been retired for over a year when he came back to pitch.
Health was his problem, too, after fracturing his ankle when he was hit with a line drive. That sort of injury is out of a player's control, but the Yankees would like to have him for as close to a full season as possible next year.
Phil Hughes
Yankee fans seem to never be happy with Phil Hughes, but he won 16 games in 2012 while pitching the most innings of his career (191.1).
The team will certainly take that and a 4.23 ERA, but if there is one area for him to improve on, it's keeping the ball inside the yard. Hughes allowed 35 home runs in 2012, which destroyed several of his starts. If Hughes can be most consistent at limiting the number of home runs he gives up, he could win 20.
Ivan Nova
Consistency. Which Ivan Nova is real? The Nova who went 16-4 with a 3.70 ERA in 2011 or the one who went 12-8 with a 5.02 ERA in 2012? It's probably somewhere in the middle, but the Yankees need him to not have as many disastrous starts in 2013 as he did in 2012.
Nova will never be a pure strikeout pitcher, but his WHIP of 1.468 this year will not cut it. He needs to get more consistent, or he'll find himself in the bullpen or in Scranton before long.
Mariano Rivera
The Yankees don't need Mariano to be better in 2013, but they need him to be the Mariano of old, or at least close to it.
Rivera's success completely depends on his cutter. If Rivera can recover from his torn ACL and pitch how he always has, the Yankees will be thrilled. If the knee injury impacts the late break on his cutter, he may not have a successful 2013.
David Robertson
Robertson has been an elite setup man for a couple of years now, but he seems to struggle when he's put into a ninth-inning situation. Depending on Rivera's health and who the Yankees bring in for their bullpen, there's a decent chance Robertson will be put into the closer's role on certain days and for certain stretches, so they need him to be ready to finish games.
Outside additions are great, but internal improvements can be just as helpful. If even some of the returning Yankees can make these improvements, the team will be even better in 2013 and poised to make another World Series run.
Read more New York Yankees news on BleacherReport.com