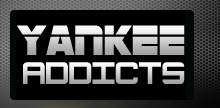 News published by
October 14, 2011
The New York Yankees played well above their talent level in 2011, at least as far as their pitching was concerned. We knew they'd have a powerful offense, just as much ...
September 1, 2011
While some Major League Baseball players collect expensive cars, New York Yankees star Derek Jeter collects trophy girlfriends. Can we blame him? Jeter has one of the sexiest dating resumes ...
June 16, 2011
Rivalries are what make sports great—and MLB is loaded with teams and fans looking for blood.MLB was founded in 1869, and at this point some teams have been beating up ...
May 19, 2011
Alex Rodriguez. Adrian Gonzalez. Even Jose Bautista. The AL East is absolutely loaded with top of the line sluggers who put their team on their back and punish opposing pitchers. ...
May 17, 2011
You can add a new twist to the Jorge Posada vs. New York Yankees feud.It was reported late last night that upon learning he was scheduled to bat ninth in ...
May 17, 2011
The New York Yankees and Derek Jeter are at it again.Their tumultuous relationship took another turn for the worse this past weekend and things don't look to be getting better ...
April 7, 2011
Throughout history, there have been many great players and teams in the world of sports. With free agency, rules changes or even the expansion of leagues, it has become increasingly ...