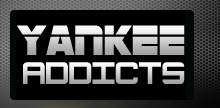 October 14, 2011 · Jeffrey Beckmann · Jump to comments
Article Source: Bleacher Report - New York Yankees
The New York Yankees played well above their talent level in 2011, at least as far as their pitching was concerned.
We knew they'd have a powerful offense, just as much as we knew a rotation rounded out with A.J. Burnett, Ivan Nova, Bartolo Colon and Freddy Garcia wouldn't be able to deliver them a World Series championship.
Sure enough, faced against a Detroit Tigers squad with a deeper rotation, the Yankees ended up getting knocked out of the playoffs during the ALDS.
The eyes of CC Sabathia were wide open.
At this point, CC is spending the early part of his offseason debating what his next move will be. Will he honor the $150-plus million contract he signed three years ago or will he opt out of his current deal in favor of a new, more lucrative deal?
Here are just a few reasons why CC Sabathia may opt out of the remaining four years on his contract with the New York Yankees.