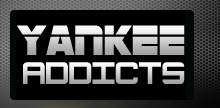 News published by
January 17, 2017
Pitchers and catchers with a predilection for pre-planning (say that five times fast) have already begun packing their bags for Florida and Arizona. Spring training is almost here, people, and ...
January 2, 2017
The calendar may have flipped to 2017, but we're still a couple of cold months away from baseball. That's actually good news (hear me out) for many MLB clubs with ...
December 16, 2016
The New York Yankees are rebuilding. They're also trying to win. That's how it works in the Bronx. Those aren't mutually exclusive goals. Last season, the Yankees sold at the trade ...
December 4, 2016
A scant three weeks before Christmas, the New York Yankees signed Matt Holliday for one year and $13 million, per Jon Heyman of Today's Knuckleball.  I will spare you the painfully obvious ...
November 14, 2016
To say New York Yankees catcher Gary Sanchez had a good rookie year is an understatement of Ruthian proportions. And yes, we just invoked the Bambino. Sanchez is 694 home runs shy ...
November 4, 2016
The offseason has arrived. For the Chicago Cubs and Cleveland Indians, that means taking a moment to reflect on an epic seven-game World Series. For the Cubs in particular, it ...
September 15, 2016
Much like convenience-store lackey Dante Hicks in Kevin Smith's seminal 1994 film Clerks, the New York Yankees weren't even supposed to be here. They sold their veteran assets at the August ...
September 8, 2016
Here come the New York Yankees. Seriously, they're in this thing.      That seemed like an absurd notion when the Yankees went into full-blown sell mode just before the Aug. 1 ...
August 24, 2016
New York Yankees catcher Gary Sanchez has been a revelation. That statement is supported by a heap of numbers, but let's start with a single figure: two. That's how many times ...
August 13, 2016
The New York Yankees waved the white flag at the trade deadline. They shifted into sell mode, abandoned all hope of making the playoffs this season and trained their gaze ...