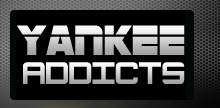 News published by
December 29, 2011
The talk of the town usually at year's end and new year's beginnings usually gets down in many sports quarters to rankings ...
November 14, 2011
With the hot stove season in full swing and baseball news about free agents and trades dominating the headlines, for fans of baseball's greatest franchise, the Yankees, there is ...
October 22, 2011
"I never wanted all this hoopla."—Roger Maris The saga of Roger Eugene Maras started September 10, 1934 in Hibbing, Minnesota. He began life as the son of first generation ...
October 14, 2011
The rambling, shifting, stream-of-consciousness syntax of Casey Stengel has filled thousands of newspaper and magazine pages with anecdotes ranging from amusing and wise to droll and banal, and sometimes ...
September 21, 2011
"Enter Sandman" blared again over the Yankee Stadium speakers. Mariano Rivera of the New York Yankees tipped his cap to the crowd and beamed.The Yankee "stopper" had set a new ...