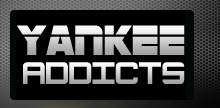 News published by
November 5, 2009
  The pain of giving up two runs in the bottom of the ninth inning in Game Seven of a gut-wrenching 2001 World Series defeat to the Arizona Diamondbacks has finally ...
October 20, 2009
Leave it to Los Angeles manager Mike Scioscia and the Angels to usher in the return of enthusiasm and drama after their remarkable 5-4, 11-inning comeback victory over the Yankees ...
October 18, 2009
New York Yankees superstars have come out to play in baseball's postseason led by predictable, indomitable shortstop Derek Jeter and redeeming performances from third baseman Alex Rodriguez. Despite cold, rainy conditions, ...
October 8, 2009
Pitching wins championships but the deep, powerful lineups featured on 2009 playoff rosters will fluster hurlers. The first few games of playoff baseball shows that hitters will make their case ...
June 2, 2009
Selig?? Saved baseball? W…T… Is this the same Selig who has endured steroid scandals and the Expos fiasco? Yes, with his back against the wall, Selig sucker-punched the conventional way of thinking ...