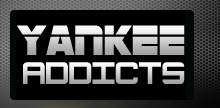 News published by
July 5, 2013
New York Yankees third baseman Alex Rodriguez has been nothing short of a gold mine over the past few months each time he opens his mouth. The 37-year-old slugger is at ...
July 1, 2013
Andy Pettitte has his name all over the New York Yankees history books, but on Monday night against the Minnesota Twins, he took the top spot in one of the organization's ...
June 26, 2013
What started as a precautionary issue for New York Yankees first baseman Mark Teixeira has turned into a season-ending malady for the 33-year-old star.  UPDATE: Thursday, June 27, at 11:35 a.m. ...
June 7, 2013
The New York Yankees selected high school pitcher Ian Clarkin with the 33rd pick in the first round of the 2013 MLB first-year player draft, but the selection did not ...
June 7, 2013
The New York Yankees and Paul O'Neill went hand in hand for nine seasons of the latter's professional career, and the franchise brought back a piece of that legacy on ...
May 24, 2013
The New York Yankees had just welcomed outfielder Curtis Granderson back into the lineup after an injury forced him out of action for the early part of the 2013 season, ...
April 12, 2013
Alex Rodriguez apparently isn't going to take his latest performance-enhancing drug allegations lying down. According to Michael S. Schmidt of The New York Times, A-Rod reportedly arranged the purchase of documents ...
April 3, 2013
The injuries for the New York Yankees continue to mount.Already without stars Derek Jeter, Mark Teixeira, Curtis Granderson and Alex Rodriguez, the Yankees will add starting pitcher Hiroki Kuroda to ...