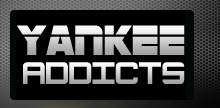 April 3, 2013 · Ethan Grant · Jump to comments
Article Source: Bleacher Report - New York Yankees
The injuries for the New York Yankees continue to mount.
Already without stars Derek Jeter, Mark Teixeira, Curtis Granderson and Alex Rodriguez, the Yankees will add starting pitcher Hiroki Kuroda to their list of injured players after Wednesday night's game.
UPDATE: Friday, April 5 at 4:00 p.m. ET by Michael Cahill
According to Wallace Matthews of ESPN New York, Kuroda threw a bullpen session Friday morning.
Matthews writes:
New York Yankees pitcher Hiroki Kuroda threw 36 pitches in a bullpen session Friday morning and, barring a setback, is expected to make his next scheduled start on Monday against the Indians in Cleveland.
–End of Update–
UPDATE: Thursday, April 4 at 4:00 p.m. ET by Tom Kinslow
According to Yankees manager Joe Girardi, Kuroda is scheduled to make his next start, per Brian Hoch of MLB.com.
—End of update—
UPDATE: Thursday, April 4 at 12:15 p.m. ET by Sam Westmoreland
The Yankees got some good news on Thursday, as manager Joe Girardi reported that X-rays on Kuroda's finger were negative, per MLB.com's Brian Hoch:
Expect Kuroda back sooner rather than later. Although there's still no timetable on his return, a bruise is a much less severe injury than a broken finger.
—End Update—
UPDATE: Wednesday, April 3, at 8:35 p.m. ET by Ethan Grant
According to Yankees clubhouse reporter Meredith Marakovits of the YES Network, Kuroda has a contusion on the finger that was struck by the line drive. He will next undergo an X-ray:
—End of update—
As Bryan Hoch of MLB.com reported, Kuroda left the second inning of his first start of the 2013 season after a line drive off the bat of Boston Red Sox outfielder Shane Victorino struck him in the right hand:
The Yankees were trailing the Red Sox, 2-0, when Kuroda left the mound.
After going 16-11 with a 3.32 ERA in an impressive 219.2 innings for the Yankees in 2012, Kuroda re-signed with the team in November. The 38-year-old has a .500 career record (57-57) and 3.42 ERA in five seasons with the Yankees and Los Angeles Dodgers.
The Pinstripes can ill afford another loss to their expected group of everyday starters.
With A-Rod, Tex, Jeter and Granderson all out with prolonged injuries, the Yankees are relying on Lyle Overbay, Kevin Youkilis and Vernon Wells to take on more prominent roles than they expected when spring training began. The deal to acquire Wells in late March (via Yahoo! Sports) is a direct result of injuries depleting the roster.
If Kuroda, New York's No. 2 starter, is forced to miss an extended amount of time, it would be another roadblock on an already difficult path back to the top of the AL East in 2013.
CC Sabathia is a force at the top of the rotation, but question marks remain behind him and Kuroda. Andy Pettitte, Ivan Nova and David Phelps round out the current rotation, but a move would have to be made if Kuroda is put on the disabled list with the injury.
Read more New York Yankees news on BleacherReport.com