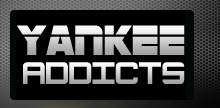 News published by
June 11, 2009
Blazing Fastball: check.   Sweeping curveball: check.   Two-cent brain: check and double check.   Allan James Burnett has been the same guy since the day he entered the league, a live arm with a knee-buckling ...
June 3, 2009
Joba Chamberlain pitched a gem against the Indians on June 1, 2009.   His stat line was one that would make any starting pitcher proud:     IP Pitches Hits SO BB ER 8.0 106 4 5 2 2                 Yet some how the debate still rages in ...
April 29, 2009
Permit me to put on my tin foil hat for a minute. Nothing says conspiracy theorist like tin foil on your head.   Are the New York Yankees brass just like you ...