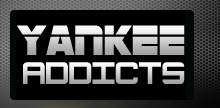 News published by
February 11, 2011
We all know that the Yankees have another solid team heading into the 2011 baseball season.  However, there is a reason why they are not the favorites this season and ...
July 18, 2010
You really have to wonder about the Yankees. They currently have the best record in all of baseball, but in watching them play, their weaknesses are obvious. If you break the team down piece ...
July 13, 2010
As everyone surely knows by now George Michael Steinbrenner III passed away Tuesday morning after a severe heart attack in his Tampa, FL home. Any and every Yankee fan is deeply saddened by ...