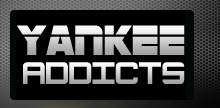 News published by
July 31, 2013
For the first time in a long time, the New York Yankees are having major issues scoring runs. They are 13th in the American League in runs scored per game. ...
December 13, 2012
The voting to see who will grace the cover of Sony's MLB 13 the Show begins on Jan. 7, and we already know who two of the three candidates will ...
July 29, 2012
The New York Yankees already started to tidy up for the stretch run with their acquisition of Ichiro Suzuki, but a deal for Colorado Rockies' reliever Rafael Betancourt would add ...
July 5, 2012
The New York Yankees will not get involved in bidding on every high profile and available player. Per ESPN's Buster Olney, despite the Yankees' obvious need for pitching and the availability ...