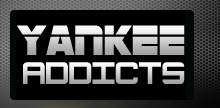 News published by
November 17, 2009
Matt Holliday formerly of the St. Louis Cardinals and Jason Bay formerly of the Boston Red Sox are the prize hitters in the 2009 – 2010 free agent market. They ...
October 27, 2009
Nick Swisher is a one man wrecking crew this postseason, but the problem is he is wrecking his own team the New York Yankees. For the Yankees to win the World ...
October 22, 2009
The fighting Philadelphia Phillies eliminated the Dodgers in the NLCS 4 Games to 1 and await the winner of the Yankees and Angels in the ALCS. The Yankees currently lead the ...
October 15, 2009
With Major League Baseball down to the final four teams of the Yankees, Angels, Dodgers, and Phillies it seems the Vegas bookmakers have the most faith in the manager with ...
September 27, 2009
The Boston Red Sox just got swept by the New York Yankees and  has lost 9 out of the last 10 against its most hated rivals. The Red Soxs started ...
August 24, 2009
The Modern Steroid ERA in Baseball began sometime in the 80's  and if you listen to Jose Canseco it was before the 1985 Baseball season. My first major idea of ...