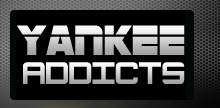 News published by
September 21, 2011
Right now, there are three certainties in life: death, taxes and Mariano Rivera.Rivera is nothing short of spectacular, and in the opinion of many, the best pitcher ever.He still dominates after 15 years, ...
April 19, 2011
It's a wonderful thing baseball is back.  After a long cold winter, we can finally get back to spring time, warmth, and baseball.Now that we can enjoy our pastime again, ...
January 26, 2011
This winter has exposed cracks in the New York Yankees' organization.  What was once the proudest and most cohesive unit in baseball has reverted to the days of factions between ...
December 26, 2010
Tino Martinez was one of the greatest Yankee first basemen and should be in the Hall of Fame.  He had a career that spanned 16 seasons, including four World Series ...
December 13, 2010
The Boston Red Sox effectively dominated the Winter Meetings, landing both Carl Crawford and Adrian Gonzalez. Their lineup is loaded, and have a deep rotation looking to have a bounce-back year ...
December 4, 2010
Answering the Red Sox's acquisition of Adrian Gonzalez, Derek Jeter and Mariano Rivera have officially re-signed with the New York Yankees.  Yesterday, Rivera agreed in principle to a two-year deal worth ...
November 27, 2010
The New York Yankees have once again failed to reach their goal of winning a World Series Championship.  While the team was solid, it won nothing last year but a ...
November 23, 2010
Picture a franchise player who was once considered one of the best players in baseball.  Fans watched him grow from an ambitious kid to a superstar, to now what could ...
November 23, 2010
After a near two-month search, the Yankees hired Larry Rothschild to fill their vacant pitching coach position.  Mr. Rothschild resigned from his position inside the Cubs organization as their Major ...