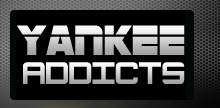 September 21, 2011 · Anthony Lifrieri · Jump to comments
Article Source: Bleacher Report - New York Yankees
Right now, there are three certainties in life: death, taxes and Mariano Rivera.
Rivera is nothing short of spectacular, and in the opinion of many, the best pitcher ever.
He still dominates after 15 years, using his devastating cutter and pinpoint control to baffle opposing hitters and saws more bats than a french lumberjack.
Unfortunately, Mo won't be around forever.
He'll have to retire to be with his family or maybe mother nature will finally catch up with him.
So while Yankee fans dread the day Rivera leaves, we look forward to the future.
Assuming Rivera retires when his contract expires after next season, here is a list of possible successors to the Great Rivera's closer mantle, along with the odds they have of succeeding him.