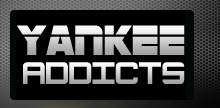 May 28, 2009 · Heartbeat Of The Bronx · Jump to comments
Article Source: Bleacher Report - New York Yankees
Yankees starter Chien-Ming Wang has had much more than just a tumultuous season in pinstripes.
A 0-3 record and 34.50 ERA turned a former ace into a rejuvenation project filled with fear and uncertainty.
The unexpected and full-fledged collapse left the Yankees organization stirring for answers—only to find more questions the deeper they dug.
Would Wang ever again regain the form of years past? Had he simply had his confidence forever shattered, like the sad story of Rick Ankiel?
Did compensations for a recurring foot injury ultimately lead to overexertion of his pitching shoulder and elbow?
Golf enthusiasts refer to the persistent nightmare as "the yips," describing the sudden and complete inability to perform even the most simplistic of mechanical tasks.
It usually starts with a missed putt or a wayward drive of the tee, but before long a golfer is left praying for a way to simply make decent contact.
In the midst of a battle with "the yips," a golfer would rather wind up and throw the ball down the fairway than even attempt to address it with a golf club in hand.
Wang was experiencing the baseball version of the psychological phenomenon, suddenly prevented from utilizing the pitch that single-handedly paved the road for his success—a painfully heavy sinker.
Virtually nothing could be done to rediscover or repair mechanics "gone rogue," as mental anguish seemed to be at the epicenter of the pitching issues.
New York released a very rational and sensible explanation for the happenings, highlighting Wang's incapability of driving off the mound with his formerly injured foot.
Subsequent compensations in mechanics put added pressure on his hip joints, while also preventing him from getting on top of his patented sinker.
Whether or not the story is 100 percent true will remain a mystery, but it was far too logical to bother questioning.
After all, an injury is much more comforting for a fan base to hear than "he may need time in a mental health facility."
On Wednesday night, Wang finally delivered a sense of optimism to Yankees Universe that all hope was not lost for his 2009 campaign.
It finally appeared as though it would be Wang's fastball that would be rapidly sinking, as opposed to the prospects of his Yankees career.
Wang pitched two strong innings in relief against a very talented Rangers lineup, and closed out the game without allowing a single base runner.
He struck out two Rangers, including one of the hottest hitters in MLB in Nelson Cruz. Cruz had recently produced 5 HR, 10 RBI, and a .462 AVG during a seven-game hitting streak.
Wang also generating two groundballs, proving that the depth and tilt on his sinker are beginning to round back into form.
There is a lot to still be concerned about, and two innings clearly is not enough of a sample size to deem Wang "cured."
Yankees fans were looking to anything as a sign of progress; however, and this certainly qualifies as such.
Wang's importance has been downplayed slightly in the recent past, as Phil Hughes has pitched dominantly over his last two starts.
Do not be a strictly nearsighted fan, and do not disregard how vital Wang is/could become to the Yankees ultimate successes.
In the event that Joba Chamberlain is forced back into the bullpen or AJ Burnett suffers an injury, Wang could be the difference between a playoff birth and scheduling tee times.
Let's hope the result is not the latter…as Wang's "yips" would likely worsen if he was lead onto a golf course.
Also Seen At: Heartbeat of the Bronx