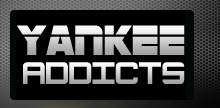 April 23, 2009 · Kevin Rozell · Jump to comments
Article Source: Bleacher Report - New York Yankees
(The Voice Of Yankees Universe)
When the Yankees new stadium opened, there were some very obvious firsts that most fans were looking forward to, such as our first pitch, our first hit, our first home run, and our first win.
Those were celebrated as expected without a blink of an eye. What did get special attention, though, was Robinson Cano's homerun that was the first to reach the stadium's second deck.
Now think of all the potential firsts as those balls go flying all over the park (and you know the statisticians will be keeping track no matter how trivial a first they might appear to be).
Speaking of homeruns, the huge number of home runs given up by Yankee pitching over the first four games in the new ballpark was not as unique as most people think.
Similar numbers were achieved on several occasions in the old ballpark; the only reason these numbers stood out is because they were the first blowouts that took place in the new stadium. Again in the home run department, we also have our first replay that confirmed Posada's home run (although not his first as we well know).
One Facebook member stated was very excited that she was holding a ticket to the first rained-out game, and it made no difference to her that she was on the train on the way to the stadium. How many people become excited knowing the game they were to attend was just rained out? That's one first that most fans would prefer to be a last.
Then there was the first marriage proposal as Dave Pero proposed to Heather DeCarolis (she said yes). However, there will probably still be a first proposal rejection and an actual first marriage. First Bar Mitzvah anybody? Then there could be one's First Communion, one's Confirmation…
Next we have the first look at Yankee Stadium food. While Erin Zimmer did a fabulous job depicting stadium food by way of vivid photography on the website, "Serious Eats, New York," the more exciting first bites of the new food will be happening by every fan at practically every game.
There is certainly enough of a variety of food to keep that particular first popular throughout the entire season.
Another first is Jason Giambi's return to the stadium. I will add he got a warm welcome in his first introduction and got a hit in his at-bat.
It's always interesting to see the fan reaction when any former Yankee returns to the stadium for the first time, but now these returns will have the distinction of being the first return to the new ballpark. So how many former Yankees are still playing on other teams? There should be lots of firsts in this area.
While I was very disturbed by the loss of our Opening Day game, I just realized that we have other important firsts still to come.
When the Red Sox and Mets come to our home, we NEED to beat them in our first game against them, and we NEED to win the first series against them as well. Of course, that "need" is not truly a need in the normal sense of the word, but it is truly a need in the abnormal sense of my mind.
I could probably write all day about potential firsts that are being experienced at every game in this one-of-a-kind stadium. All it takes is some imagination and the patience to keep on writing.
However, for those of you who prefer to glean over conventional firsts instead, here is a list of those "run-of-the-mill" firsts as elicited by Bryan Hoch of MLB.com:
First pitch: CC Sabathia, ball to Grady Sizemore, first inning
First hit: Johnny Damon, single, first inning
First home run: Jorge Posada, solo fifth inning
First RBI: Kelly Shoppach, double, fourth inning
First run scored: Ben Francisco, fourth inning
First putout: Sizemore groundout to first baseman Mark Teixeira, first inning
First hit (Indians): Francisco, double, second inning
First strikeout: Sabathia gets Victor Martinez swinging to end the first inning
First home run (Indians): Sizemore, seventh inning
First run (Yankees): Posada, fifth inning
First RBI (Yankees): Posada, fifth inning
First error: Tony Graffanino, throw to first base, fifth inning
First wild pitch: Cliff Lee, fourth inning
First victory: Lee, Indians
First loss: Jose Veras, Yankees
First caught stealing: Sizemore—Posada to Robinson Cano, fifth inning