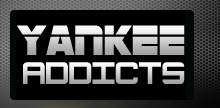 May 27, 2009 · Brandon Joseph · Jump to comments
Article Source: Bleacher Report - New York Yankees
On May 28, 1999 the New York Yankees were the defending World Series Champions, they had won two in three years and were in first place in the AL East. A decade later only five of those players remain, one of which is now the manager; the stadium is different; the economy is different, and the famous New York skyline is different. But yet the Yankee faithful assume and expect the same dominate team.
Those same Yankee faithful, a lot of which grew up in the dynasty era, do not know their roots. Just 10 years prior, on May 28th, 1989 the team was 21-25, had not won an East title since 1981 and a title since 1978. This was just the start of a decline that lasted until 1995.
Since the dynasty era it has been a big paycheck, big result mentality, with the Yankees going to get the big names to play in the biggest city in the world…Tino Martinez, Alex Rodriguez, Roger Clemens, David Wells.
However that is a fallacy! Under the George Steinbrenner rule the New York Yankees have always spent more money, and had a win at any or all cost way of business. Reggie Jackson, Dave Winfield, Chris Chambliss, and Rickey Henderson were some of the original hired guns by Steinbrenner.
With George Steinbrenner, the Yankees were always going to have the marquee name; that was George's personality he wanted the biggest power hitter, the strikeout flamethrowing pitcher.
To George small ball didn't exist, it was the long ball, the flashy baseball and winning big that put butts in the seats, thus earning him money. George Steinbrenner was not the man who aided the Yankees in becoming a dynasty, he was the checkbook who got what he wanted every once and while to keep thinking he ran the show
Part 2 will profile the few, the proud, the men who kept Steinbrenner in line.