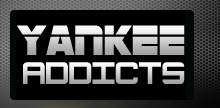 May 27, 2009 · ep Pehowic · Jump to comments
Article Source: Bleacher Report - New York Yankees
A nod to Arrowman44 who posted half of that awesome Bull Durham quote in his list of the greatest movies ever on our forums. (If you haven't signed up and started talking, please do.)
Those words couldn't be any more prophetic with what's been going on recently in fantasy baseball.
Prospects everywhere
The Mets put Jose Reyes and Ryan Church on the DL then called up outfield prospect Fernando Martinez. The Orioles will debut catcher Matt Wieters on Friday. Baltimore has also debuted starting pitcher Brad Bergesen and outfielder Nolan Reimold this season. Tampa Bay's David Price made his debut this week. Arizona outfielder Gerardo Parra is one of a number of rookies getting starting time from earlier callups. /Deep breath/
There's a lot of movement on the rookie and prospect front. *Forgot to mention Cubs outfielder Jake Fox who will debut soon according to Yahoo Sports, and Yankees pitcher Phil Hughes, who seems to have figured things out, to name two more. I could keep going, but I won't.*
Hughes, Price, Parra and Reimold have been added in one league or another, but I haven't gone after Martinez—not sure he's going to stay up when everybody gets healthy in New York, and I already have Reimold who could be sent down when Luke Scott returns—and I tried to get Wieters, but he was already rostered in all of my leagues. Yes, in the preseason I said to avoid Wieter's dreamy potential at your draft. But Like Mine That Bird at the Kentucky Derby, any horse has a chance to win once he gets to the bigs.
With any prospect, especially highly touted ones like Martinez, Price and Wieters, it's worth dumping a roster bum to take a flier. As mentioned in jzak's post about Mat Gamel, you may end up with the next Ryan Braun. And if the guy's floppy, you'll only lose one start or a game or two to find out.
Bullpen news
John Grabow is the closer for the Pirates until Matt Capps returns. Frank Francisco is back so C.J. Wilson's value has plummeted despite his save last night. He got the S because Francisco got a save his first night back on Monday.
I've dropped C.J. Wilson and added John Grabow where applicable, feel free to copy my answers if you need saves.
Not news, but it's going here anyway
Brad Lidge hasn't been benched, but I wish he would. He was shaky finishing Tuesday's game. Is he even going to finish with 20 saves this year? Glad I reached for him in a couple leagues.
I am glad I avoided Carlos Quentin in all of my drafts, he's got foot issues compounding his much larger baseball issues.
Garrett Atkins, you are killing two of my teams. I hate your baseball "skills." Should have followed my own preseason advice when I told everyone he was among the top five players to avoid this season.
What do you think? Are you scooping up Grabow, or gobbling up as many of those prospects as you can fit on your roster? Have any lineup or trade questions that need hashed out? Let us know in the comments or join the conversation on our forums.
Related posts