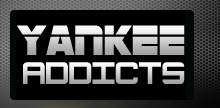 June 9, 2009 · Josh Johnson · Jump to comments
Article Source: Bleacher Report - New York Yankees
Before posting my thoughts leading up to the MLB draft, I thought I'd pass this along. Over at FanGraphs.com, Matthew Carruth gave us a little taste to something many sabermatricians have been waiting for. Here's a little nugget as to what HIT f/x is:
A full scale system of tracking batted balls off the bat and all the way to the fielder's gloves will allow us to make massive strides forward in fielding metrics and even assist us in refining our offensive measurements as well.
The announcement of HIT f/x was first made back in January. So yesterday, when Carruth said what a HIT f/x would entail, it was obviously very exciting. The stat was the initial speed off the bat. And I did make one observation.
The New York Yankees, who are tied for second in the Major Leagues with 88 home runs, are only 14th in baseball with an 80.9 mph initial speed off the bat. Meanwhile, the Giants, who as a team are last in the Major Leagues with 28 home runs, are tied for 15th in baseball with an 80.7 mph initial speed off of the bat. And when you take in effect the average mph that is being brought down by the pitchers, as the Giants and other National League teams' average will be down, it's really eye opening as to how the field dimensions could play in effect.
However, the field dimensions at both AT&T Park and Yankee Stadium aren't all that different, which really just brings up that the Yankees pay for their power, while the Giants pay for their pitching. It's even more eye opening when you see that the Giants are over .500 despite being second to last in runs scored.
What does all this mean? Nothing really. I just thought it was interesting and thought I'd pass it along to the readers here at Josh's Thoughts.
OK. Enough rambling. Check back later for some draft thoughts. In the mean time, check Seth Stohs' Organizational Review and Draft Thoughts. Just a heads up, don't expect nearly that much effort from me. 🙂