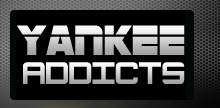 April 23, 2009 · Kevin Rozell · Jump to comments
Article Source: Bleacher Report - New York Yankees
(The Voice of Yankees Universe)
You've heard of him. Literally, I know you've all heard of him. Super-fan "Freddy Sez" Schuman, somewhat of a mascot for the New York Yankees, has been roaming Yankee Stadium with his signature pan and spoon, getting fans to try their luck at banging the pan to get a Yankee rally going.
It's as much a part of the aura of Yankee Stadium as the famous "roll call," carried out during the first inning of each home game by our friend Bald Vinny. The famous clanking sound of the spoon hitting the pan can even be heard on television, a sure sign that the Yankees are home.
During a visit to Yankee Stadium in 1999, I actually got to try my hand clanking the spoon on the pot for Freddy, something along with my participation in the roll call in section 39 of the bleachers in 2004, which I will never forget.
However, during the first home stand of the new Yankee Stadium, an article in the Post revealed Freddy's honorary pass into the stadium had some trouble translating across the street, as the soon-to-be 84-year-old had to rely on the generous fans who donated their tickets to him to get into the stadium to carry on his ritual.
The Yankees made Freddy an honorary guest years ago, so as you can imagine, Freddy was confused at what transpired during the opening home-stand.
"The Yankees say I am a part of the stadium. What part am I, the toilet bowl?" Schuman said. "But the fans have come through. They gave me $40, and even $100 tickets."
Fortunately, everything was cleared up as a spokeswoman for the Yankees was quoted in the article as saying it was a "miscommunication, we love Freddy and will accommodate him."
The Yankees did the right think in recognizing that it is not the organization that gives the ballpark its mystique, but its the fans and those little nuances like the roll call and Freddy Sez, who give the ballpark its character.