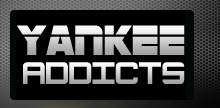 April 25, 2009 · Heartbeat Of The Bronx · Jump to comments
Article Source: Bleacher Report - New York Yankees
Coming into Friday's opening game of the Yankees-Red Sox rivalry, New York was already struggling to find a clutch hit with runners on.
They were hitting just .232 as a team with runners in scoring position (RISP), and were currently standing at third-worst in the league as a result.
The team then left Fenway Park following a painful and debilitating loss, wondering what had just happened to the win they had secured in their back pocket.
Jorge Posada happened. Robinson Cano happened. Melky Cabrera happened. Nick Swisher happened.
By the time fans' blood pressures had risen to levels reserved for patients in cardiac arrest, the Yankees had left 29 men on base. Worse yet, the team batted just .210 (4-19) with RISP, including two crushing double play balls late in the game.
When the dust had cleared and defibrillators had been used to bring Yankees supporters back to their couches, something even more surprising happened.
Mariana Rivera happened. Give Rivera a two run lead with two outs in the ninth, and it is usually as automatic as doubling down on 11 at a Vegas Blackjack table.
On Friday night, one unsharpened cutter lifted off into the night sky, all but destroying New York's hopes of capturing the series' first game. The culprit was Red Sox outfielder Jason Bay, the only one of the four right-handed Red Sox power hitters to limp out of the gate at home.
Though the scoreboard read 4-4, it might as well have been over then. The air was sucked out of the Yankees lungs, and their confidence was shattered like china in a bull stampede.
Boston turned to the reigning "United States Staring Contest Champion" in the ninth, and Jonathan Papelbon thwarted yet another scoring opportunity for the Yankee offense.
Anyone who watched the game or reviewed the box score knows exactly what happened next. Damaso Marte happened.
Coming into the game with an ERA approaching 20.00, Marte performed admirably in his first inning while striking out two.
However, he was simply no match for the only man in the history of sports to sweat more than former Knicks center Patrick Ewing. Kevin Youkilis ended the game with one swing of his bat, and tucked New York's tail firmly between its legs.
Fans were now left sweeping up the remains of what used to be their television controllers, computing in their heads how much a Radio Shack replacement would cost them in the morning.
Most New Yorkers will now focus on the NFL Draft, trying to erase the game's result from their memories. Even the dream matchup of A.J. Burnett and Josh Beckett on Saturday afternoon may not be enough to draw them away from ESPN in favor of FOX baseball.
To fans watching for clutch hits and heroism on Friday night, the Yankees had truly put the "rage" in courageous.