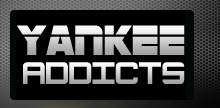 April 23, 2009 · Kevin Rozell · Jump to comments
Article Source: Bleacher Report - New York Yankees
(The Voice of Yankees Universe)
A little over two weeks in the books and this is how the AL East looks. I don't consider the Orioles or Blue Jays a serious candidate to win the division, or even stay close in the race so I'm not worried about them.
A lot of people have the Rays winning this division and all of a sudden they sit at a record of 5-9 at the bottom of the standings. The Red Sox are right on the Yankees tail. Interesting..huh?
I'm sure the standings will change a ton throughout the season (and I know it's very early), but it's always interesting to see how these teams start out in the beginning and finish at the end.
American League East Standings:
Toronto Blue Jays W-10 L-5
New York Yankees W-8 L-6 1.5GB
Boston Red Sox W-7 L-6 2GB
Baltimore Orioles W-7 L-7 2.5GB
Tampa Bay Rays W-5 L-9 4.5GB
Let's not rush to judgment / The Mo and Andy Show / Undefeated no more
Yanks grind out a nearly k-less win on cold night / Is the DL next for Wang?
Matsui had left knee drained Thursday / Yanks to skip Wang's start vs. Red Sox