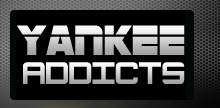 News published by
March 7, 2011
I saw an interview of the Yankees' player development director, Mark Newman, by noted baseball prospect expert John Sickels, and was more than a little surprised at some of the ...
October 20, 2010
The only thing that could have made last night worse for New York was another successful terrorist plot.OK, so that's a bit of a stretch, but seriously, last night was ...
October 19, 2010
The Rangers' Cliff Lee was masterful yet again last night in New York, striking out 13 Yankees in eight innings without allowing a run as he helped push Texas ...
August 16, 2010
Boy, was that a lot of fun! Who says a two-game series isn't worth the effort?One night after losing in unlikely and dramatic fashion to the Texas Rangers, the ...
July 16, 2010
Allow me to introduce you to two mystery pitchers, Player A and Player B. In their last eight starts, dating back to the beginning of June, both pitchers have ...
June 23, 2010
The Yankees maintained their loose grip on first place in the American League Eastern Division Monday night, despite being handed an embarrassing, 10-4 loss to the last-place Arizona Diamondbacks. Since the ...
May 18, 2010
Joe West would have been bored out of his mind last night. Six weeks ago, after the Yankees began their title defense with a three-game opening series against the ...
April 27, 2010
There are probably fewer things more frustrating to a sports fan than watching an expensive, recently imported veteran player repeatedly fail in his efforts to help the team. The more prior ...
April 19, 2010
Well, it's fun being a Yankee fan these days.The Yankees are currently 9-3, sitting atop the American League East division (albeit tied with the Tampa Bay Rays), with a nice ...
March 30, 2010
*****START***** The Scranton-Wilkes Barre Yankees just released about 50 tickets for the Meet the Scranton/Wilkes-Barre Yankees Dinner on April 7 at PNC Field in Scranton. There will be ...