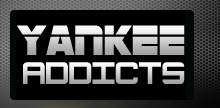 News published by
November 30, 2011
In baseball, no job is safe. We all know that managers are scapegoats when things are not going well. They do it just to appease the fans and hope ...
November 16, 2011
The future is now for the New York Yankees.As the current roster is getting older, the Yankees should consider to call up all of their best young talent. We already ...
November 14, 2011
CC Sabathia is a very good pitcher and deserves all the money that he gets. However, there are some players that the Yankees could have spent money on instead of ...