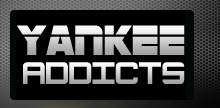 News published by
October 15, 2012
The Yankees may be at a disadvantage going into Detroit down 2-0, but they are a veteran team and have the experience to play well under pressure.  The questions is, ...
January 20, 2012
The growth potential in the world of premium stadium seating and hospitality has attracted former Madison Square Garden boss David Checketts to join legends Hospitality Management, LL.  This appointment was announced Wednesday ...
November 12, 2011
Early on Veterans Day morning, the New York Yankees teamed up with Bank of America employees to prepare 5,000 gift packages that the United Service Organizations (USO) will send to ...
February 4, 2011
Andy Petite, an all-time great pitcher, announced his retirement from the New York Yankees after 16 Major League Seasons—13 of them pitching for the Yankees.He will be introduced at a ...