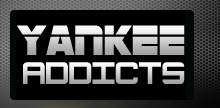 News published by
December 19, 2012
Brian Wilson needs to be a New York Yankee in 2013. Now that relievers like Joakim Soria, Mike Adams, Ryan Madson, and Jonathan Broxton are signed, Brian Wilson is one ...
August 14, 2012
Finishing up his eighth season as second baseman for the New York Yankees, it's time to start thinking about where Robinson Cano will place in Yankees' history.Out of 29 players ...
July 31, 2012
What's the matter with Headley? He's a bum! Sitting in the left field bleachers on a cold, rainy night in San Francisco, some excitement was needed to improve this dreary ...
May 4, 2012
Mariano Rivera's torn ACL is obviously one of the most devastating injuries to ever befall the storied New York Yankees.  While most will be concentrating on how awful the loss ...
March 11, 2012
The Yankees' rotation was the biggest weakness on the team last season. Phil Hughes fell victim to a dead arm and A.J. Burnett floundered through another sporadic season. Players like ...
March 8, 2012
The Yankees go into the 2012 season as clear-cut World Series contenders after reworking their starting rotation this offseason. The rotation was their only glaring weakness following a disappointing season (by ...