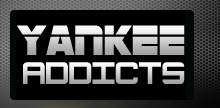 News published by
August 10, 2009
I hate to knit-pick, but count on me to play Devil's Advocate on a Monday morning, following a 96 hour span of baseball which left me with a smile from ...
May 20, 2009
I have had one dream all my life, and that is to be a professional athlete. As I sit (OK, lay) here as a slightly overweight 22-year-old with a bad right ...
May 7, 2009
At 9:13 pm, the Yanks were losing 3-0 to the Tampa Bay Rays. At the New Yankee Stadium. In New York. Again.In fact, let's look at some of the ...
May 5, 2009
Thanks go out to Selena Roberts, who obtained much of this information while hiding in a pile of money in Alex Rodriguez's private gym. The New York Yankees, who have shattered ...
May 4, 2009
It's like Forrest Gump used to say: "Stupid is as stupid does, sir." I'm a huge Yankee fan. I am convinced and will argue with anyone that being a Yankee fan ...