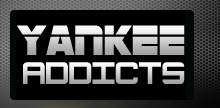 News published by
September 30, 2013
The New York Yankees have missed the 2013 playoffs, and with an aging roster, their prospects are not looking too good for next year either. To make things more complicated, one ...
February 12, 2013
With the announcement in January that the Baseball Writers Association of America had not voted anyone into the Hall of Fame recently, discussions once again began in earnest as to who was ...
August 23, 2012
The Major League Baseball season to this point has demonstrated a very significant point about the modern game that no one seems to be getting: The role of closer doesn't ...
May 4, 2012
Everyone in Yankee Nation is fretting right now over the knee injury sustained by Mariano Rivera.What will New York do? Who will replace the best closer of all time? Can the Yankees ...