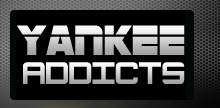 News published by
December 8, 2009
The New York Yankees, Detroit Tigers, and Arizona Diamondbacks have reportedly completed a blockbuster trade that has seven players switching teams. All-Star center fielder Curtis Granderson goes from the Tigers to ...
November 25, 2009
Shelley Duncan is finally free. After nine years of indentured servitude in the New York Yankees' farm system, Duncan is a free agent for the first time. Unfortunately, Duncan is no longer ...
November 7, 2009
Chien-Ming Wang is a member of the World Champion New York Yankees, for now.   The 29-year-old right-handed starter is eligible for arbitration this winter and the Yankees have until the December ...