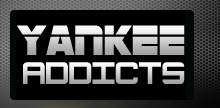 News published by
October 12, 2012
We should be cheering for Joe Girardi. We should cheer regardless if we love, hate or love to hate the New York Yankees. Rooting for Girardi in no way is ...
October 9, 2012
Alex Rodriguez should be a ghost for Halloween. With the exception of the 2009 postseason, the New York Yankees third baseman has made a career out of disappearing in October. ...
September 6, 2012
The Tampa Bay Rays need some help this week from the Baltimore Orioles, preferably a sweep of the New York Yankees. The Rays currently sit 2.5 games behind the Yankees ...
May 10, 2012
It's just one blown save. Calm down. The New York Yankees had a one-run lead against the Tampa Bay Rays going into the ninth inning. On the mound was the team's ...
February 22, 2011
Hank Steinbrenner indirectly called out Yankees captain Derek Jeter and his newly constructed mansion on Monday. Steinbrenner implied the team was not focused in 2010 and was hungover from its ...
December 8, 2010
Carl Crawford and Cliff Lee are still available in Major League Baseball Free Agency. Some of the major names have already landed with new teams including Jayson Werth and Victor ...