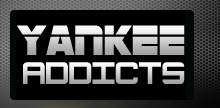 News published by
December 8, 2010
The New York Yankees have fierce competition in the AL East. Only the Baltimore Orioles finished beyond 10 games out of the playoffs. The Boston Red Sox have proven their ...
November 25, 2010
Captain Clutch is no more. Derek Jeter entered this season an elite shortstop, but proved in the end why he is no longer worth the money. The former rookie of the ...
November 25, 2010
With free agency now in full force, there seem to be a select number of elite players up for grabs. Of course, we all know Cliff Lee is a free agent, ...