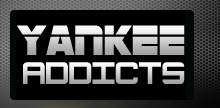 News published by
September 22, 2009
In the not so distant past the New York Yankees embodied everything good about baseball and America.  Slowly that faded.  Yankee lore officially died on August 19, 2006—ground breaking day ...
September 14, 2009
Yankee Stadium, Sept. 14, 1935, the Detroit Tigers came to town for a double header.  Hank Greenberg, a native New Yorker, and the first formidable Jewish baseball player did not ...
July 25, 2009
I really hope I can stick to those wise words but, you see, as a "Featured Columnist", I am obligated to write three articles per week concerning my beloved ...