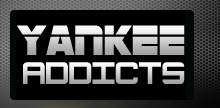 News published by
June 8, 2015
CC Sabathia had a solid start on Sunday, limiting the Los Angeles Angels to five hits and two runs in the New York Yankees' 6-2 victory. These days, those positive performances ...
May 24, 2015
The New York Yankees lost their 10th game in the last 11 contests on Sunday, falling to the Texas Rangers 5-2. Starter Chris Capuano lasted only 4.1 innings, and the ...
February 23, 2015
The New York Yankees have a ton of question marks heading into spring training. It will be the first time in a long time without Derek Jeter at shortstop. Alex Rodriguez ...