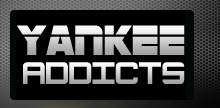 News published by
October 3, 2009
After missing the postseason last year, the Yankees clinched early this year. As a result, they've been able to get everyone rested and set up the rotation for the playoffs. ...
October 1, 2009
The recent Yankees draft strategy has been to take guys who are signability cases. While this is definitely the right move for a team with the financial resources, there is ...
September 30, 2009
It doesn't seem like the Yankees care about anything other than winning at this point. Since clinching home field advantage for the entire postseason, they haven't lost a game and ...
September 28, 2009
Recently, Mike Axisa over at River Avenue Blues took a look at all of the minor league pitchers through the lens of a statistic called Dominance Factor. Brett Sullivan developed this ...