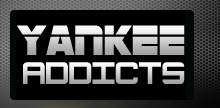 News published by
February 2, 2015
Spring training is almost here, and that means two things. The first is that, thankfully, baseball is almost back. The second is that there will be plenty of positional battles throughout major ...
January 25, 2015
Spring training is almost here, which means Opening Day and the 2015 season are getting closer and closer with each passing day. A lot has changed with the New York Yankees ...
January 12, 2015
Major League Baseball's offseason is undeniably the most exciting in sports. Once the winter meetings get going in early December, players begin signing contracts and switching uniforms at a rapid pace. ...
January 5, 2015
The New York Yankees have had an eventful offseason despite not making any major splashes, yet there is still some work to do. They have already found Derek Jeter's successor in ...
December 30, 2014
The new year is almost upon us, which means so are New Year's resolutions. It is a tradition for people to come up with changes they want to make in their ...
December 22, 2014
With some time having gone by and the New Year almost upon us, it has been a strange offseason thus far for the New York Yankees. They have not been quiet, ...
December 15, 2014
It has been two years since the New York Yankees made the postseason, so naturally there were going to be some changes and transactions this winter. So far we have seen ...
December 11, 2014
The sun has been shining and the weather has been warm these past few days in San Diego, California. Most importantly, baseball moves have been made. Every year some of baseball's most ...
December 3, 2014
Baseball's offseason is well underway, but the New York Yankees have been unusually quiet. As American League East rivals like the Toronto Blue Jays and Boston Red Sox bolster up ...
November 27, 2014
It is Thanksgiving, which means the holiday season is in full swing. With Pablo Sandoval and Hanley Ramirez both going to Boston and a few other free agents already signed, it ...