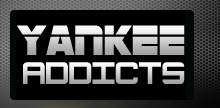 News published by
September 2, 2011
AJ Burnett went into Thursday's start against the Boston Red Sox as the odd man out in the New York Yankees starting rotation. After changing his mechanics three days ago ...
August 17, 2011
At this time last week, the New York and national media ran with the classic "Is Mariano Rivera Done?" theme, an almost yearly event that breaks down Rivera's recent weekly ...
May 16, 2011
By now the entire baseball world has heard what transpired this weekend between the Yankees and Jorge Posada.Note: I would have never put either guy in that spot. This would ...
April 19, 2011
Many Yankee fans and fantasy owners have been down on Jorge Posada's start to the 2011 season. Posada's start is one of the more baffling and unlucky starts that I ...
April 3, 2011
Phil Hughes Final Line: 4IP, 5H,  5R, 5ER, 2BB, 1K .333 GB/FB ratio One of the mysteries during the Yankees spring training centered around the lack of velocity Phil Hughes ...
March 31, 2011
CC Sabathia Final Line: 6 IP 6H 3R 2ER 2BB 7K .5 GB/FB ratio  New York Yankees' CC Sabathia didn't have his best stuff against the Tigers, but he was ...
March 29, 2011
NEW YORK YANKEES Last Year: 95-67, second in AL East Manager: Joe Girardi  PROJECTED LINEUP C- Russell Martin (R)1B- Mark Teixeira (S)2B- Robinson Cano (L)3B- Alex Rodriguez (R) SS- Derek Jeter (R)LF- Brett Gardner (L)CF- ...