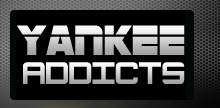 News published by
June 15, 2012
Despite being a fan favorite, most Yankees fans didn't know what to expect from the return of veteran pitcher Andy Pettitte this spring. Would his age slow him down? Did ...
June 8, 2012
It's that time again in the Major League Baseball. Summer is about to officially begin, baseball is in full swing and the second round of Interleague matchups are set to ...
May 13, 2012
It was a picture-perfect day in the Bronx as the Yanks battled the Seattle Mariners. The sun was up, the sky was clear and there was a buzz in the ...
April 30, 2012
Going into spring training this year, the Yankees made moves to considerably improve their starting rotation. After all, the Yankees have had no emergencies in the closer position for the ...
April 24, 2012
The Texas Rangers have become one of the top dogs in the American League for the past few years. They are coming of two consecutive World Series appearances and, despite ...
April 6, 2012
It's Opening Day for the New York Yankees, as they face division rivals, the Tampa Bay Rays.While we have yet to see the first swing of the bat of the ...