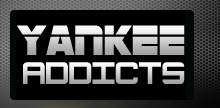 News published by
October 14, 2010
A.J. Burnett will be the first to admit his season was nothing short of disastrous. In his second year with the Yankees he posted a 10-15 record with an ERA north ...
July 17, 2010
Yankee Stadium, both the Old and the New, has seen its fair share of dramatics. On Friday night, Yankee lore honored the passing of two great men that meant much more ...
June 14, 2010
Earlier in the baseball season, the topic of realignment reared its ugly head; specifically citing the American League East. It was a hot topic for a few weeks in late April ...