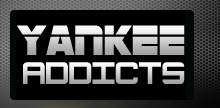 News published by
July 16, 2011
Sixty years ago to this day, Joe DiMaggio recorded a hit in his 56th consecutive game, an MLB record that stands to this day. Although other hitters have come close ...
December 10, 2010
Despite a flurry of movement at baseball's winter meetings, free agent pitcher Cliff Lee remains unsigned.But that doesn't mean he hasn't been fielding offers.According to reports, both the New York ...
November 29, 2010
The Yankees' original offer of three years, $45 million wasn't good enough. Jeter reportedly is seeking an annual salary of $23-24 million for a four or five-year contract, but New ...
November 22, 2010
Derek Jeter is still a free agent, much to the surprise of the entire baseball community. Jeter's agent, Casey Close, has said that he is "baffled" by the way negotiations ...