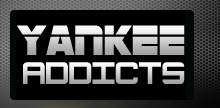 News published by
July 22, 2010
Once upon a time, Mark Teixeira was hitting below the Mendoza Line with little power and a lot of criticism. However, much has changed since May. Teixeira is slowly turning his ...
June 18, 2010
With the Subway Series rolling back around this weekend, the Yankees will look to avenge a lost series to their crosstown rivals from May. While the starting pitching matchups might be ...
June 4, 2010
While the Big Red Machine of the 1970s might have been extremely good, it has nothing on the 2010 Yankees. The Bronx Bombers have put together the best hitting infield of ...
May 30, 2010
  As if the MLB season wasn't long enough already, fantasy baseball mock drafts in late January/early February allow us to enjoy America's pastime a little bit longer. That is, unless your ...