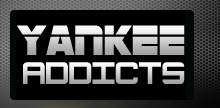 News published by
November 27, 2012
Few teams in sports have amassed the level of hatred the New York Yankees and Boston Red Sox have towards one another. For over a hundred years, Red Sox players, ...
November 5, 2012
A year of inconsistent starting pitching will have the New York Yankees shopping for a pitcher in an attempt to bolster a mediocre rotation. "New York can't just throw money ...
October 30, 2012
After an embarrassing end to the 2012 postseason, the New York Yankees will be looking to upgrade their roster and make another run at a twenty-eighth World Series title. Age ...
October 28, 2012
After a disappointing end to 2012, the New York Yankees will be looking to re-stock on talent and re-align their roster during the offseason. The Yankees will be altering their ...