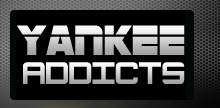 News published by
May 30, 2016
New York Yankees first baseman Dustin Ackley will miss the season and undergo surgery on a torn labrum suffered on May 29.  Continue for updates. Surgery on the Horizon for Ackley Tuesday, May 31 Manager ...
May 15, 2016
New York Yankees outfielder Carlos Beltran hit his 400th career home run in the bottom of the sixth inning of Sunday's game against the Chicago White Sox. The Bronx Bombers sent ...
March 31, 2016
For the second straight year, the New York Yankees will call upon Masahiro Tanaka to be their Opening Day starter.   On Thursday, Yankees manager Joe Girardi announced the news in ...